Welcome to Grass Carpet Dubai: The Best Landscaping Company in Dubai
In today's fast-paced world, finding a reliable and trustworthy landscaping company can be a daunting task. That's why we are here to introduce you to Grass Carpet Dubai, the best landscaping company in Dubai. With our unparalleled expertise and commitment to excellence, we have established ourselves as the go-to choice for all your landscaping needs.
At Grass Carpet Dubai, we offer a comprehensive range of services that include artificial grass supply and installation, as well as landscaping solutions.
With our team of 20 dedicated professionals, we have been serving clients in Dubai for the past five years, ensuring that their outdoor spaces are transformed into stunning, sustainable landscapes.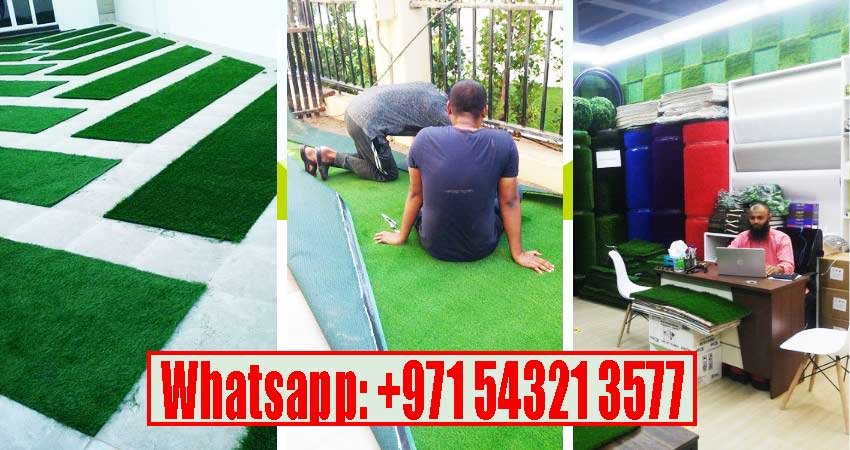 As a company registered under the Government of Dubai with a commercial license, we take great pride in delivering top-quality services that exceed our clients' expectations.
Our team is equipped with the knowledge, skills, and experience to handle landscaping projects of any scale, whether it's for residential or commercial properties.
Throughout this article, we will provide you with an in-depth overview of Grass Carpet Dubai and what sets us apart as the best landscaping company in Dubai. We will delve into the comprehensive services we offer, our commitment to customer satisfaction, our focus on quality and durability, and our dedication to environmental sustainability.
Join us as we showcase our expertise in creating vibrant and sustainable outdoor spaces that enhance the beauty and functionality of your property. Whether you're looking for artificial grass supply and installation or customized landscaping solutions, Grass Carpet Dubai is here to turn your vision into a reality.
So, let's embark on this journey together and explore the exceptional services and expertise that make Grass Carpet Dubai the best landscaping company in Dubai.
Landscaping company Dubai
II. Commitment to Excellence
At Grass Carpet Dubai, our commitment to excellence is at the core of everything we do. We take immense pride in providing top-quality landscaping services that surpass our clients' expectations. Here are the key aspects that reflect our dedication to excellence:
A. Dedication to providing top-quality landscaping services:
We believe that every outdoor space deserves the utmost care and attention to detail. Our team of skilled professionals is passionate about their craft and goes above and beyond to deliver exceptional results. From conceptualization to execution, we strive for perfection in every project we undertake.
B. Employing 20 dedicated professionals for exceptional service:
Our success lies in our team. With a workforce of 20 dedicated professionals, we have carefully assembled a talented group of individuals who are experts in their respective fields. Their expertise, creativity, and attention to detail ensure that every project is executed with precision and finesse.
C. Five years of experience in serving clients in Dubai:
With five years of experience in the industry, we have established ourselves as a trusted landscaping company in Dubai. Over the years, we have built a solid reputation for delivering outstanding results and exceeding our clients' expectations. Our extensive experience has equipped us with the knowledge and skills to handle a wide range of landscaping projects.
D. Registered under the Government of Dubai with a commercial license:
Grass Carpet Dubai is proud to be a registered company under the Government of Dubai with a commercial license. This accreditation reflects our commitment to operating within the legal framework and maintaining the highest standards of professionalism and integrity. It provides our clients with the assurance that they are partnering with a reputable and trustworthy landscaping company.
At Grass Carpet Dubai, we understand that each client has unique requirements and visions for their outdoor spaces. Our commitment to excellence ensures that we listen attentively to our clients, understand their needs, and deliver customized solutions that bring their visions to life. We constantly strive for improvement and innovation, keeping up with the latest trends and techniques in the landscaping industry.
III. Comprehensive Landscaping Services
At Grass Carpet Dubai, we offer a comprehensive range of landscaping services that cater to the diverse needs and preferences of our clients. With our expertise and attention to detail, we are committed to transforming outdoor spaces into stunning landscapes. Our comprehensive landscaping services include:
Landscaping Company in Dubai
A. Artificial Grass Supply and Installation:
We take pride in providing high-quality artificial grass solutions that enhance the beauty and functionality of outdoor spaces. Our extensive range of artificial grass options offers versatility and durability for various applications.
Whether it's for residential gardens, commercial spaces, or recreational areas, we have the perfect artificial grass to suit your needs.
Our dedicated professionals ensure precise installation with meticulous attention to detail, resulting in a seamless and natural-looking finish. We utilize industry-leading techniques and equipment to deliver exceptional results that surpass our clients' expectations.
1. Wide range of high-quality artificial grass options:
We offer a wide selection of premium artificial grass options, including various textures, colors, and pile heights. Our range caters to different aesthetic preferences and functional requirements, ensuring that our clients find the perfect artificial grass solution for their specific projects.
2. Expert installation services with attention to detail:
Our team of skilled professionals specializes in the installation of artificial grass. With their expertise and attention to detail, they ensure the proper preparation of the area, precise cutting and fitting of the grass, and secure anchoring for long-lasting results. We take pride in delivering installations that not only look visually appealing but also provide a comfortable and safe surface for various activities.
B. Customized Landscaping Solutions:
1. Tailored designs for residential and commercial spaces:
We understand that every client has different needs and preferences when it comes to landscaping. Our team of experienced professionals works closely with clients to understand their specific requirements and design a landscape that perfectly suits their lifestyle, aesthetic preferences, and functional needs.
From creating serene garden retreats to designing inviting outdoor areas for commercial properties, we ensure that each project is uniquely customized to exceed our clients' expectations.
2. Creating stunning outdoor landscapes:
We believe that a well-designed landscape can enhance the beauty and ambiance of any space. Our team combines their expertise in horticulture, design principles, and project management to create stunning outdoor landscapes that are both visually appealing and functional.
We carefully select and arrange plants, incorporate hardscape elements, and create focal points to bring the landscape to life. With meticulous attention to detail and a keen eye for aesthetics, we transform outdoor spaces into captivating environments that leave a lasting impression.
C. Maintenance and Enhancement:
1. Regular maintenance services to ensure the longevity of landscapes:
We offer regular maintenance services to keep your landscapes healthy, vibrant, and well-maintained. Our team of experienced gardeners and landscape technicians performs essential tasks such as mowing, trimming, pruning, fertilizing, and irrigation system maintenance.
We tailor our maintenance programs to meet the specific needs of each landscape, ensuring that plants thrive, pests are controlled, and the overall health and appearance of the landscape are preserved.
2. Enhancing existing landscapes with creative ideas:
We believe that landscapes should evolve and adapt to the changing needs and preferences of our clients. Our team of experts is skilled in enhancing existing landscapes with creative and innovative ideas.
Whether you're looking to add new features, upgrade existing elements, or introduce seasonal changes, we work closely with you to understand your goals and implement enhancements that breathe new life into your outdoor spaces.
From adding decorative elements and focal points to introducing new plant varieties, we transform landscapes into captivating and dynamic environments.
IV. Customer Satisfaction
At Grass Carpet Dubai, we prioritize providing exceptional customer satisfaction. We understand that our success lies in the happiness and contentment of our valued customers. Here's how we ensure a positive and enjoyable experience for every client:
A. Focus on exceptional customer service:
We believe in going above and beyond to meet and exceed our customers' expectations.
Our friendly and knowledgeable team is always ready to assist and guide clients throughout their landscaping journey.
We listen attentively to their ideas, preferences, and concerns to deliver customized solutions that align with their vision.
B. Testimonials and feedback from satisfied clients:
We take pride in the positive feedback and testimonials we receive from our satisfied clients.
Their genuine appreciation for our work serves as a testament to our commitment to quality and customer satisfaction.
By showcasing their testimonials, we aim to inspire trust and confidence in prospective customers.
C. Building long-term relationships with customers:
We value long-term relationships and strive to become our clients' trusted landscaping partner.
Our goal is to be there for them not only during the initial project but also for ongoing maintenance and future enhancements.
We maintain open lines of communication, provide reliable support, and offer tailored solutions to their evolving landscaping needs.
As the best landscaping company in Dubai, Grass Carpet Dubai is dedicated to ensuring the utmost satisfaction of our customers. We believe that exceptional customer service, backed by testimonials and the development of long-term relationships, is the key to creating delightful and lasting landscaping experiences.
V. Quality and Durability
At Grass Carpet Dubai, we are committed to delivering landscaping solutions of the highest quality and durability. We understand that our clients deserve nothing less than exceptional craftsmanship and long-lasting installations. Here's how we ensure the best quality and durability for our projects:
A. Use of premium materials for landscaping projects:
We source and utilize only the finest quality materials available in the market.
Our selection includes premium-grade artificial grass, plants, trees, and other landscaping elements.
By using top-quality materials, we create visually appealing and resilient landscapes that stand the test of time.
B. Focus on durability and longevity of installations:
Our skilled professionals employ industry-leading techniques and best practices to ensure the durability of our installations.
We pay attention to every detail, ensuring that our projects are built to withstand the harsh environmental conditions of Dubai.
Whether it's artificial grass, hardscape features, or irrigation systems, we prioritize longevity to provide our clients with sustainable outdoor spaces.
C. Assurance of vibrant and sustainable green spaces:
We are committed to creating vibrant and lush green spaces that bring joy and serenity to our clients.
Our landscaping designs are carefully planned to optimize sustainability and environmental friendliness.
We integrate water-efficient irrigation systems and eco-friendly practices to minimize water consumption and ecological impact.
As the best landscaping company in Dubai, Grass Carpet Dubai takes pride in delivering exceptional quality and durability. By using premium materials, focusing on longevity, and ensuring vibrant and sustainable green spaces, we exceed our clients' expectations and create outdoor environments that enhance their lifestyle.
VI. Environmental Sustainability
A. Implementing eco-friendly landscaping practices
Grass Carpet Dubai is committed to implementing eco-friendly landscaping practices throughout our projects.
We prioritize the use of sustainable materials and techniques that minimize environmental impact.
Our team is knowledgeable about native plant species and employs efficient irrigation methods to conserve water.
B. Conserving water through artificial grass installations
With our artificial grass installations, we contribute to water conservation efforts in Dubai.
Artificial grass requires minimal water usage compared to natural grass, reducing overall water consumption.
Our high-quality artificial grass products are designed to withstand Dubai's climate while maintaining a vibrant and lush appearance without the need for excessive watering.
C. Contributing to a greener environment in Dubai
Grass Carpet Dubai is dedicated to contributing to a greener environment in Dubai.
Through our landscaping services, we help create green spaces that improve air quality and provide a natural habitat for local wildlife.
By promoting sustainable practices and incorporating eco-friendly elements into our designs, we strive to enhance the overall ecological balance of the city.
As the best landscaping company in Dubai, Grass Carpet Dubai is not only focused on creating beautiful landscapes but also on preserving and enhancing the environment.
With our eco-friendly practices, water conservation efforts, and commitment to a greener Dubai, we aim to make a positive impact on the sustainability of our city.
VII. Conclusion
A. Grass Carpet Dubai: Your trusted choice for landscaping in Dubai
Grass Carpet Dubai has established itself as the best landscaping company in Dubai, providing top-quality services and exceptional customer satisfaction.
With our ten years of experience and dedication to excellence, we have become a trusted name in the industry.
Our commitment to using premium materials, offering comprehensive services, and promoting environmental sustainability sets us apart from the competition. best landscaping in Dubai
B. Inviting clients to experience our exceptional services
We invite you to experience the expertise and professionalism of Grass Carpet Dubai.
Whether you need artificial grass supply and installation or customized landscaping solutions, our team of 20 dedicated professionals is here to transform your outdoor space.
With attention to detail and a focus on customer satisfaction, we strive to exceed your expectations and create stunning landscapes that enhance the beauty of your property. Villa landscape
C. Contact information and call to action
To explore our landscaping services or discuss your project requirements, contact Grass Carpet Dubai today.
Visit our website at www.grasscarpetdubai.com to learn more about our services and view our portfolio of completed projects.
Call us at [Mobile and Whatsapp: +971543213577]  to schedule a consultation and get started on your landscaping journey.
Choose Grass Carpet Dubai as your trusted partner for all your landscaping needs in Dubai. Let us transform your outdoor space into a beautiful and sustainable oasis. Landscaping in Dubai
FAQS :
What services does the landscaping company in Dubai provide?
The landscaping company in Dubai, Grass Carpet Dubai, provides a range of services including artificial grass supply and installation, landscaping design and implementation, as well as maintenance and enhancement of outdoor spaces.
They specialize in creating stunning landscapes for both residential and commercial areas, ensuring the use of high-quality materials and attention to detail in their installations.
Whether it's designing a vibrant garden, installing artificial grass for a green and sustainable environment, or providing regular maintenance services, Grass Carpet Dubai offers comprehensive solutions to meet their clients' landscaping needs.
How much does a landscaper make in Dubai?
The salary of a landscaper in Dubai can vary depending on several factors such as the individual's experience, qualifications, the company they work for, and the scope of their responsibilities. On average, a landscaper in Dubai can earn between 2,500 AED to 6,000 AED per month.
However, it's important to note that these figures are approximate and can vary. It's recommended to research specific job listings and consult with local sources to get accurate and up-to-date information on salary ranges for landscapers in Dubai.
What are the benefits of landscaping in Dubai?
1. Enhanced Aesthetics: Well-designed landscapes can transform the appearance of outdoor spaces, adding beauty and visual appeal to residential and commercial properties in Dubai.
2. Increased Property Value: Professionally landscaped properties often have higher market value and can attract potential buyers or tenants. Landscaping is considered a valuable investment that can provide a significant return.
3. Improved Quality of Life: Green spaces and well-maintained gardens promote a sense of relaxation and tranquility. Landscaping creates a welcoming environment, allowing residents and visitors to enjoy nature and escape the hustle and bustle of the city.
4. Environmental Sustainability: Landscaping can contribute to environmental conservation by incorporating sustainable practices. This includes using native plants, efficient irrigation systems, and implementing eco-friendly landscape designs that promote water conservation and reduce waste.
5. Energy Efficiency: Well-planned landscaping can provide natural shade, reducing the need for excessive air conditioning and lowering energy consumption. Trees and shrubs strategically placed around buildings can help regulate temperatures and improve energy efficiency.
6. Noise and Pollution Reduction: Landscaping features, such as trees and vegetation, act as natural barriers, absorbing sound and reducing noise pollution. They also help filter air pollutants, improving air quality in urban areas.
7. Recreational Spaces: Landscaping provides opportunities for outdoor activities, creating recreational spaces for residents to engage in physical activities, socialize, and connect with nature.
8. Stress Reduction: Being in a green environment has been shown to reduce stress levels and improve overall well-being. Landscaping offers a peaceful and serene setting where individuals can relax, unwind, and enjoy the benefits of nature.
It's important to consult with professional landscapers in Dubai to design and implement landscaping projects that align with the specific needs and climate of the region.